Quick Introduction to Muse Shop
MuseShop.net
Quick introduction to Muse Shop & MuseShop.net website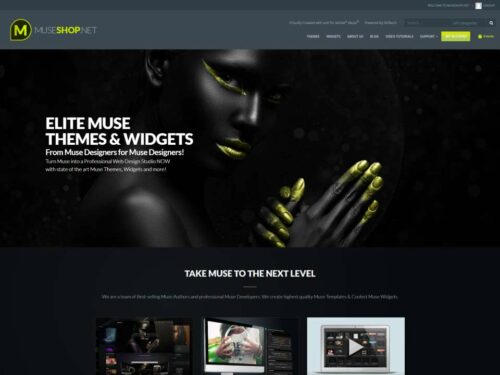 From Muse Designers for Muse Designers
The first thing worth mentioning is that all of us from Muse Shop are hard core Muse designers and each of us have backgrounds in similar industries like web design, graphic design, web development and other. And even thought we've all made some notable achievements in Muse design our passion for going further and breaking the rules and limits of Muse has only grown bigger. Our passion for Muse is what brought us together and we've decided to join forces and create a top of the line library of Muse themes and widgets and hence some less than a year ago we've decided to create Muse Shop.
We have turned Muse into a professional web design studio
With a five year experience in Muse, and each of us in Muse Shop being an advanced Muse user, we've been developing custom upgrades and have designed some of the best-selling Muse websites. All of this work has resulted in a set of powerful Muse templates and widgets that can be used on real web design projects for even the most demanding clients, it didn't take long for us to realize that what we created was a professional web design studio library of assets that takes Muse to the next level.
The MuseShop.net Structure
Muse Shop expands into four major sections
Muse Shop Themes

Muse Shop Widgets

Muse Shop Content Blocks

Video Walkthroughs
With Muse Shop Themes, you you can discover a selected number of outstanding Muse Templates. We're aiming for the quality, not quantity and that being said each of our themes is practically a mini web design studio in itself. Our Multipurpose themes will easily transform into your clients' vision and our industry specific themes are created to really work. And we'll be uploading new Multipurpose Muse themes as well as the industry specific ones, on a regular basis.
Muse Shop Widgets is where you should look if you want to add extra functionality to your Muse website or if you want to add some jaw-dropping effects like 3D parallax to blow your clients away. The more widgets we create the more we like creating them so we can confirm that we've gone nuts for creating awesome new widgets. This is of course good for you, the Muse Designer, because you can expect fresh Muse widgets frequently.
Our Video Tutorials are a series of how-to videos that will firstly help you learn to use our widgets like a pro and secondly they will show you some awesome tips, tricks and hacks that you can apply to get extra functionality or to help you use Muse on a more professional level. Our Muse video tutorials will help you become a Muse expert so make sure you visit that section often.
At the time of writing this post our Content Blocks are being finalized so they might not yet be available but let's get over what they are. Muse Shop Content Blocks are building blocks for your Muse projects, a modular sections of muse websites that you can pick and use for any purpose you want while building a Muse website. From sliders, icon blocks, image blocks, buttons and more, content blocks are an awesome solution if you want to build a new website without having to design it from scratch and yet without installing an entire Muse template.
Muse Shop MEMBERSHIP
In the next post I'll talk about Muse Shop Membership, what it is and what it can do for your web design business so stay tuned 🙂